Motherhood The Musical

Having a baby is just the beginning…motherhood is for life. In the original play Motherhood The Musical, four women share their insights, challenges and pleasures at a baby shower. In 90 minutes of fun, you'll get a peek into the powerful friendship of Amy, a soon-to-be first-time mom; Brooke, a hard-working lawyer; Barb, a stressed-out mother of five; and Tina, a single mom seeking to balance work, her family and her divorce. Motherhood is a funny, yet loving look at being a mom at any age. It's climbing the emotional mountain only to find that there's laundry at the top.

Roles
4F

Musicians
3

Acts
1

Duration
90 Min
Creators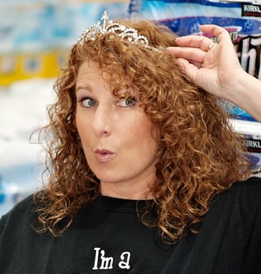 Book, Music and Lyrics Sue Fabisch is the author (book, music, lyrics) of Motherhood the Musical, which has played across the US, Scotland and a 2-year tour around Australia (twice!) Other shows include the musical David Michael...
Videos
Instrumentation
3 Musicians
Piano
Bass
Drums
Casting
Barb
Female - 30-45
Stay-at-home mother of five. She has a dry, sarcastic sense of humor. She doesn't own anything that isn't machine-washable and would use her sleeve to wipe her child's nose without hesitation. Her husband's name is Chris and her kids are Daniel, Steven, Jessica, and "the twins."
Brooke
Female - 40+
Attorney, sophisticated. She loves a great handbag, her phone and shopping at Costco. She is married to Jeffrey, a stockbroker and has 2 kids, Kaitlyn and Tyler. She strives for success at work and at home, but sometimes worries if she really has it all in balance.
Tina
Female - 30-40
Soccer Mom and mother of three. She is recently divorced and adjusting to her new identity as a "single mom." Her family and her friends mean everything to her.
Amy
Female - 25-35
Pregnant with her first child, Amy wants to do everything perfectly. She is meticulous in her research and in her preparation for motherhood. Like any new mom-to-be, she is blissfully unaware of how much her life will change after the baby arrives.
Promotional Resources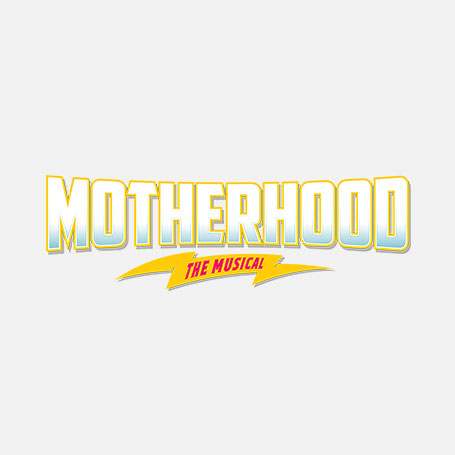 Official Logo Pack
Included with license
Includes color and black and white high-resolution logo files in JPG, PNG, and EPS formats.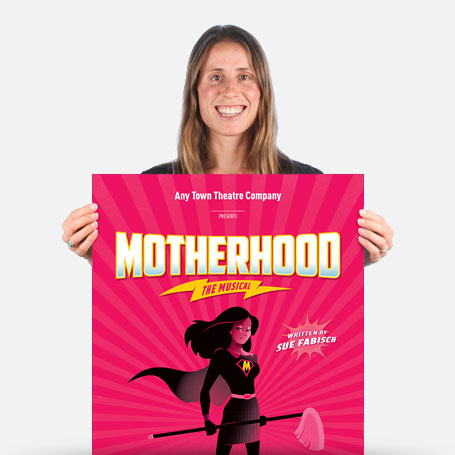 Official Show Artwork
£136.5 / £97.5 for educators
Creating artwork for your performance has never been easier – customize online in minutes, download a print-ready PDF, order printed posters, access layered files.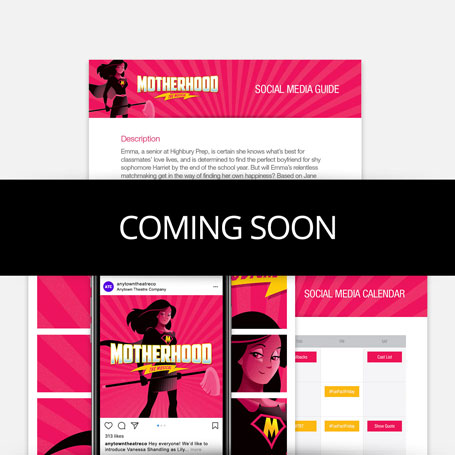 Social Media Marketing Kit
£195 / £117 for educators
Includes everything you need to plan and implement the promotion of your show – 50+ graphics for social media, original show specific content, social media guide, promotion calendar and press release template.
Production Resources
Advance Pack
Includes 1 Piano/Conductor Book, 1 Director's Script and 1 Cast Script/ Vocal Book shipped as soon as payment is received.
£76.50
Extra Rehearsal Weeks
If you need your full set of production materials prior to the regularly scheduled shipment (see above), you can request additional weeks.
£76.50 / week
Full Conductor Score
An ideal solution for those who choose to conduct their show from the podium, as opposed to the piano. Each detailed instrument staff is always right in front of you--giving you the most comprehensive layout for full control of your orchestra.
£95.63/Print, £76.50/Digital, £133.88/both
Archival Video License
If you want to record your production for archival purposes and to provide at cost copies to your cast and crew, you may do so by purchasing a video license.
Varies by Show
TurnKey Transpositions
Broadway stars change the keys of songs all the time...so why not you? Optimize your actors' performances by ordering our TurnKey Transposition. Get the perfect key for the perfect actor! All digital delivery, usually within 24 hours.
£38.25 per song for PV or PC
£114.75 per song for all orchestral parts (including PC/PV)
Digital Orchestration Parts
Prefer playing or rehearsing from your tablet? All of our orchestration books (including PC and PV) are available in digital copies.
PC or PV £38.25
Orchestration Parts £19.13/per book
Performance Tracks
Our top-quality digital performance tracks are sent to you through a simple link. Quickly download them to your computer, tablet or smartphone and start rehearsing!
£153
Credits
Book, Music and Lyrics by
Sue Fabisch